Produced: 1985-1994
Name: "Киев-19"
Producer: Arsenal (Kiev)
Frame size: 24x36.
Lens: Helios-81H 2/50.
Shutter: 1/2s, 1/4s, 1/8s, 1/15s, 1/30s, 1/60s, 1/125s, 1/250s, 1/500s + B.
Original price (in year 1986) 150 roubles.

Thanks to Gediminas Degutis (Lithuania) for camera #8710787 donation.
Camera opposite from Ilya Stolyar (USA) collection.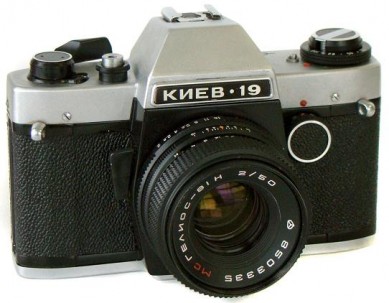 Camera identical to #850889, but with new nameplate already. Different design of lens markings. No otherwise different.

At least 4 types of Kiev-19 are known to exist in totally: 1) An early type (see camera #850889), 2) common type (see camera #8710787), 3) an export version with nameplate in Roman characters, 4) totally black body (very uncommon). .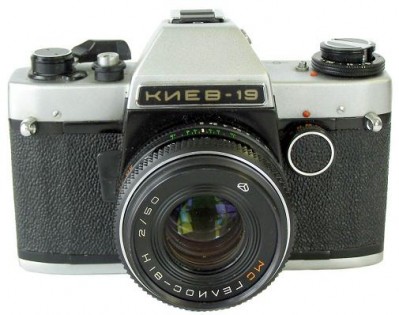 Less common late version of Kiev-19 with export markings. Although the particular sample opposite was released in 1992, still "Made in USSR" markings can be found on the rear plate.

The particular camera is fitted with an ultra rare Volna-4H 1.4/53mm from 1980-ies. The standard lens for Kiev-19 is MC Helios-81H 2/50mm.