Produced: c.1988
Name: "Киев-19M"
Producer: Arsenal (Kiev)
Frame size: 24x36.
Lens: Arsat-H 2/50.
Shutter: 1/2s, 1/4s, 1/8s, 1/15s, 1/30s, 1/60s, 1/125s, 1/250s, 1/500s + B.
Camera opposite from Ilya Stolyar (USA) collection.
Can be found under export name Mirage-19M (Latin America market).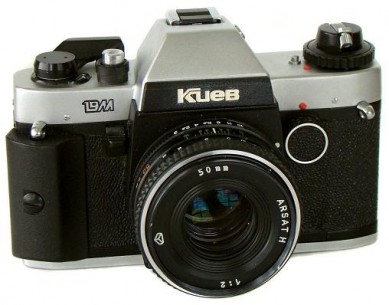 Arsenal have introduced Kiev-19M in 1988. The first batch of the particular cameras have metal top plate mouldings, instead of obviously cheaper plastic ones on late 19M's. My camera #9000061 has another serial number #152377 on paper sticker inside the body. No otherwise different from regular cameras.

Totally new complete set. I was told, that appr. 100 units of such sets were prepared in 1990. Few of these sets are for sale on eBay right now.