This was the first in a compact, well-made series of half-frame cameras. 28mm (f2.8-16.0) focusing lens. Close focusing to 3 feet. PC contact, cable release connection and tripod socket. Exposure is strictly manual with no built-in meter or exposure guide. The shutter release button on this series is on the front of the camera, and unfortunately a little too easy to push by mistake as you are advancing the film! This model is easy to identify from its rectangular shutter release button. Unlike the later models, this one did not have an interchangeable lens mount. It also lacked a filter thread on the lens. It had a nice little film speed reminder on the bottom of the camera, but some people are confused by this and think that the camera has some sort of built-in meter! Despite its proto-typical flaws, it is a well-made camera (source: http://www.subclub.org/shop/mmz.htm).


Produced: 1965-1967
Name: "Чайка"
Producer: MMZ
Frame size: 18x24.
Lens: Industar-69 2.8/28.
Shutter: 1/30s, 1/60, 1/125, 1/250s + B.
Quantity: 171.400 units.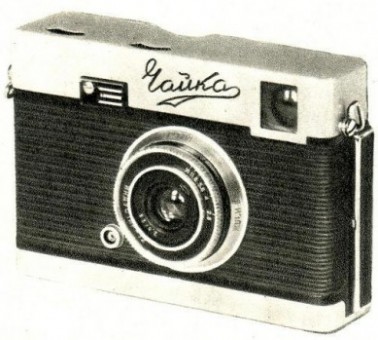 At least few versions of particular camera. The earliest cameras came with different name markings. Some camera can be found fitted with Industar 2.8/28mm (see camera #5002793). The most common version is fitted with Industar-69 2.8/28mm lens (see camera #5023913).

An early Chaika cameras come with metal film rewind swithc, while late cameras already have plastic one (source: Fotoua.com). Some cameras have markings "SDELANO B CCCP" on the rear plate.